An astronaut is stranded alone on a distant planet in an isolated star system and doesn't know why.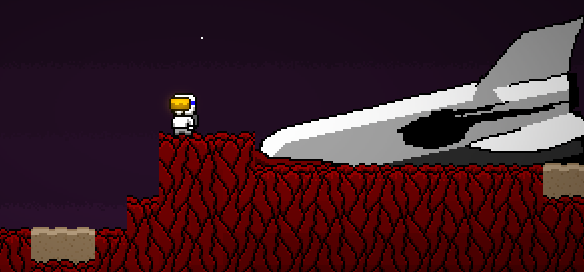 Windows: Beacon_v1_1_win.zip
Mac: Beacon_v1_1_macosx.zip (requires Mac OS X 10.6)
Linux: Beacon_v1_1_linux.tar.gz (see readme.txt)
"Beacon" is a sprawling adventure-platformer involving SAD THINGS and MYSTERY. It also has a jetpack. It'll take you about 15 minutes to play.
If you'd like to download the soundtrack, read this!
PRESS:
"…a lovely bit of work, with some happy platforming and a touching ending"
Rock Paper Shotgun
"…a minimal yet alluring platformer with a surprising amount of emotional depth"
Play This Thing
"What really makes the game is the music — it's awesome"
Dig Boston Indie Game of the Week
"…surprisingly touching"
PC Gamer
DEVELOPMENT:
Beacon originally started off as a Ludum Dare 48 game in December on the theme of Discovery. The wonderful people who took part in Ludum Dare voted it second best out of the 242 entries! I spent a few weeks polishing it after, making it FASTER and STRONGER and BETTER and adding things the original version lacked, like "music".
If you're interested in Beacon's development process, I wrote a postmortem about making the game for the LD48 site back in January and I blogged my progress on the new version approaching launch. If you'd like to know what I'm getting up to next, please follow me on Twitter.
But most importantly, please download the new version and try it out! I hope you enjoy it. ♥