Have you been good?
Of course you have.
Have a Merit Badge.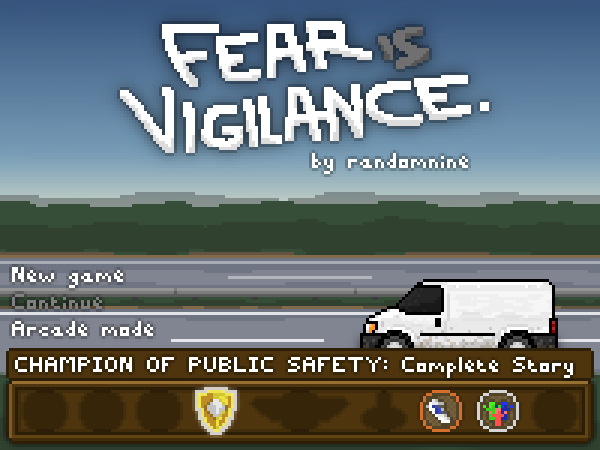 Yes, I found time this evening to bodge achievements into Vigilance. I didn't want to go crazy with these – a lot of Flash games get ridiculous, right? – so there are only nine. Some of them are quite tough though!
Feature creep continues, though I'm running out of large things to add! I'm considering a level select screen so you can play Arcade Mode on all the different backgrounds in the game. The disco level is cool, but I think people will object to the sheer garishness of the animated floor, and besides it gets a bit dull playing it over and over.
Just for fun, here's my remaining todo list.
More NPC colour variations. Skin tone randomisation?
Change the 'leave the park' message at night to a big-font TARGET MET
Cutscenes: add reverb to the POWW sound
Finish ending cutscene background (detail bushes, add more trees)
Arcade mode: stop NPCs attacking after time expires
Title screen: redo input and fix graphics so title screen is totally mouse-driven
Arcade mode: add dancing animations for NPCs in disco
Arcade mode: add a "level select" screen and support alternative backgrounds
Remove debug keys.
Implement Playtomic analytics.
Secure and site-lock SWF.
???
Profit!
I'm still primarily working on this new contract project, but Vigilance is still getting the occasional bit of love. And you know… that to-do list used to be a lot longer 🙂