The opening weekend of Greenlight has passed – and it was pretty great!
Fifteen thousand people have checked out Cardinal Quest II. It moved up to 1% early on, which was awesome (only a handful of projects have risen above 1% so far, so it's a big deal!). It's also been included in almost two dozen collections – my favourite of which is IndieGames.com's top Greenlight picks, if you're curious.
I want to write about another collection here though. Dan Griliopoulous started a collection of colour-blindness-friendly games on Greenlight, aptly named Redlight: The Accessible Collection. I'd read about supporting red-green colour blindness before but had let it slip my mind while getting the game ready. Still, with Dan's reminder I spent a few hours going over a whole bunch of little things like this in the UI: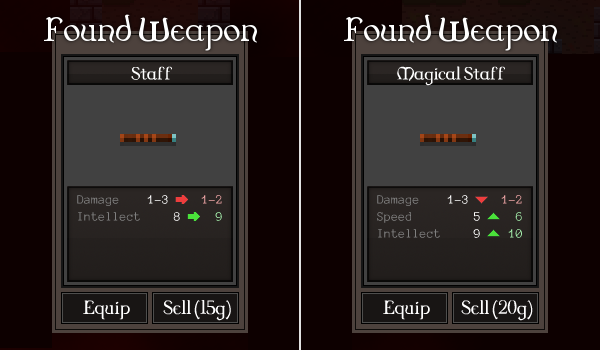 …and now there's no information conveyed purely through red/green colour coding. Dan's confirmed it's totally playable – I strongly suspect it wouldn't have been before.
It was a timely reminder that accessibility features, while easy to overlook during development, can be the single most important thing about your game for many potential players. Today I found out about Game Accessibility Guidelines, a reference site for key features to implement or avoid to ensure that people can play your game. Needless to say I'll be going through the list during development and pushing CQ2 towards compliance.
Going back to Greenlight in general and that 1% figure: it's still early days for both the service and this project. I'm not too worried whether Cardinal Quest II actually clears it at this stage or not. The feedback and positivity towards the project during the Greenlight launch has been fantastic. I'm honestly pleased as anything that it's gone over this well at such an early stage and I'm feeling way more confident in the project.
To everyone who's voted CQ2 up on Steam or shared it: thank you! I'm hard at work, pushing to bring it up to a standard worth the other 99% 🙂