Cardinal Quest 2's been out on Android, iOS and Kongregate for over a year. Each of those versions is Free-To-Play. The Steam version, on the other hand, is launching at $10 for the first week and $15 thereafter.
I expect some people will find the F2P version fits their needs best, others will prefer the version on Steam. So what's different?
All versions have the same content, but the unlock system is completely changed. The Free-To-Play versions have Morale, a currency you slowly accumulate (or purchase, for $5, $10 or $20) and spend on continues and unlocks. It takes a lot of time to unlock everything, and honestly it's built to encourage you to buy a little on the way.

In the Steam version, there's no waiting around! You can straight up hit a button in the Options menu and unlock everything instantly if you want to. If you'd like to preview stuff and then go back to the progression, you can: the unlock cheat lasts until you close the game and end your run, so you still get to gradually unlock things. You can even use a perk to unlock itself…
As for that unlocking, unlocks are linked to Achievements instead of a soft currency. You can aim straight for the things you want, or play around and end up unlocking things you might not otherwise try. I've spent a while setting up interesting progression through the unlocks and I hope you'll enjoy finding routes through them! You start with three classes (Fighter, Wizard and Thief), so you can immediately tackle around half of the 60 or so unlock achievements. You also get unlimited Continues to do this with, in case you get close to finishing something and just need that extra last push.
Finally, the Steam version is built for widescreen. It'll run fullscreen at 60fps, hardware permitting. 🙂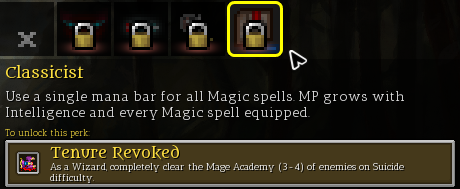 I hope that covers it. Ultimately, $10 or $15 on the Steam version buys you time: a faster unlock process, a way to bypass unlocks entirely, and unlimited continues so the game never punts you back to the start unless you want it to.
If neither of those options sounds ideal, you could Wishlist the game on Steam and watch for sales. I'll be keeping CQ2 at $10 or above for several months, then gradually introducing further discounts when the timing feels right. 🙂
But if $10 sounds like a deal: the game's coming out on Steam around 1AM PST tomorrow (4AM EST, 9AM GMT). See you then!