Yet another day's just passed where I've been too busy working on CQ2 to write about it, and it's been forever since the last update! So here goes – a super quick update about everything that's going on.
The Android build is currently running through the process at Kongregate. As soon as they're happy to announce a release date for Google Play I'll pass it on.
While it's been in this process, I've taken the opportunity to add swipe controls as an option. This will be in the Android launch and will be in the 1.04 update for iOS going live about the same time. It should make the game much better on bigger phones and tablets.
In the meantime, I've been working on the big 1.1 update. Here's a quick peek at the new class, the Alchemist:

The Alchemist introduces the game's first crafting mechanic! They're eccentric potions experts, a bit flaky in a fight but capable of making usable items from scratch and combining poor items into better ones.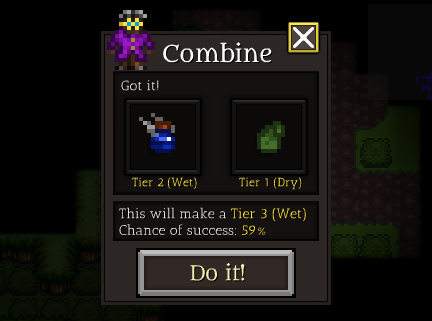 And yes, they're a bit steampunk. 🙂
Not only can the Alchemist make and refine items, they also get an extra item pocket… and in this update, everyone can carry up to two identical items per slot, so six slots means up to twelve items. Knowing when to use an item and when to ditch it matters more than ever here – it's the rapid production and use of special one-shot items that makes the Alchemist a formidable adventurer.
I'll do a full class update soon. Until then, I'm getting back to work on this and the Endless Mode so I can get them to you ASAP!